PROJECT DESCRIPTION
The former tower silo is located in close distance of Olomouc historical centre, on Litovelská St. The actual area, adjacent to city centre, is delimitated by the triangle of railway track and Litovelská and Před Lipami streets, in between the historical and residential parts of the city.
The investor intends to transform the former tower silo into exclusive administration building by erecting the four floors superstructure on top of current building. The plans for project realisation also include the construction of new entrance floor with entrance hall, reception, lift access corridors, maintenance and sanitary facilities and mezzanine floor (lift station).
After the complete reconstruction, four floors of exclusive office space will be created, located 21,6m to 37,6 m above the ground level and offering an attractive view on the city of Olomouc. Complete additional facilities appertain to each floor - lifts, staircases, corridors, kitchenettes and sanitary facilities. Also, standard equipment/services include air conditioning, sun-blinds, data distribution networks and electronic security installations. The additional interior adjustments and technical installations can be agreed on client's request.
The business purpose of the project is to offer the modern, completely equipped, A class office building to the businesses interested in expansion to Olomouc region. Silo Tower project should help to resolve the problem consisting in current absence of high standard administration buildings in whole region, confirmed by the reports of renowned real estate agencies.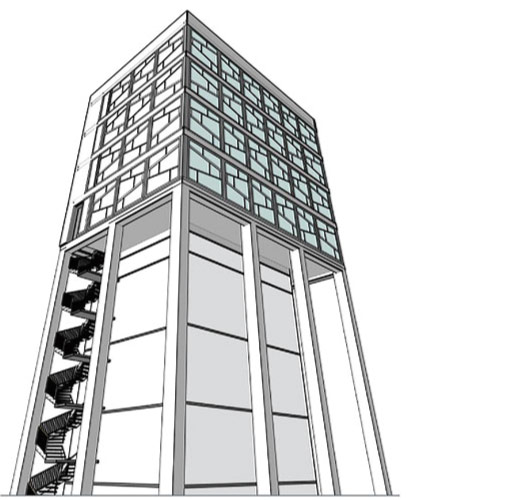 | | |
| --- | --- |
| Location: | Litovelská St., Olomouc, Czech Republic |
| Project description: | Exclusive administration building: the reconstruction of former tower silo |
| Start of the project: | Autumn 2010 |
| Project completion: | Spring 2012 |
| Dimensions and sizes: | 4 administration floors and 1 technical floor of total area of 1 124 m2 |
| Architect: | Ing. arch. B. Zlámalová |
| Current stage: | Preparation works,building permit issued by official authorities |